Our Auto Repair Services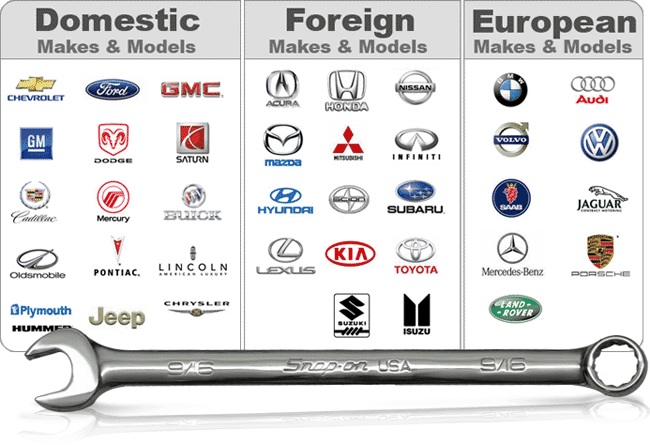 We provide a wide range of automotive services from full auto repair to complete preventative maintenance services. Below is a list of all our professional automotive repair services.
ENGINE, FUEL SYSTEMS, EMISSIONS, & PERFORMANCE
Engine Performance Service (Diagnostics)
Standard & Electronic Ignition Systems
Fuel Injection Service & Component Analysis
Emission Controls
Fuel Pump Service (Mechanical & Electric)
Gas Gauge & Fuel Tank Sending Unit Service
Diesel Injection Service
Throttle Body Repairs & Clean and Service
Vacuum Leaks Diagnosed w/ Smoke Detection
BRAKE SYSTEMS, AXLE SERVICE/REPLACEMENT, WHEELS, & TIRES
Brake Replacement (Disc & Drum)
Brake Calipers & Wheel Cylinders
Master Cylinder & Brake Bleeding
Power Brake Boosters
Hydro-Vac Units (Hydro-Boost)
ABS Diagnosis & Repair
Brake Fluid Flushing
Emergency Brake Repairs
Wheel Bearing Replacement & Repack (when applicable)
Front & Rear CV (constant velocity) Axle & Boot Service
Differential Repairs
Drive-Shaft Service
Suspension Inspection & Service
Wheel Alignment (front & rear)
Wheel Balance
Tire Rotation Service
Power Steering Services
MAINTENANCE SERVICES AVAILABLE
Oil & Filter Changes
Tire Rotation
Wheel Balance
Wheel Alignment
Headlight Aiming
Transmission Fluid Service
Lighting (bulb replacement)
Windshield Wipers
Belts & Hoses
Vehicle Inspection
Battery Change-over & Charging
Cooling System Flush & Exchange
Engine Pressure Clean
7,500, 15k, 30k, & 60k Mile Maintenance Schedules
ENGINE MECHANICAL REPAIR & SERVICES
Engine Replacement
Engine Replacement through Major Manufactures
Timing Belt Service
Engine Oil Leaks: diagnose, clean, and recommended repairs
COOLING SYSTEM SERVICE & REPAIRS
Radiator Repairs & Cooling System Pressure Tests
New Replacement Radiators (limited lifetime warranty)
Water Pump Service
Thermostats
Freeze Plug (Expansion Plug) Service
Cylinder Head Gasket & Cylinder Head Service
Cooling System Flush
Coolant Exchange Service
Thermostatically Controlled Circuits
Electrical Fan & Motor Assemblies
Cooling System Re-Hose Service
Electrical Repairs to Dashboard Monitoring Lights & Gauges that Affect the Operation of the Cooling System
AIR CONDITIONING & HEATER SERVICE
Heater Service (includes diagnose failure & components that are needed)
Heater Core Replacement
Heater Hose Service
Thermostat (Mechanical & Electrical)
Dash Control Components
Automatic Temperature Control Systems
A/C Evacuate & Recharge Service (w/ EPA Approved Equipment)
Component Replacement or Repair where applicable of a failed component
Evaporator, Compressor, A/C Hose, Condenser, Drier, & All Related Components
We use the proper refrigerants that are designed for the vehicle.
ELECTRICAL CIRCUITS, SWITCHES, & ELECTRONICS
Computer Controlled Circuit Repairs
Power Windows, Power Doors, Power Seats, & Power Antennas
Cruise Controls
Electrical Shorts
Re-wiring for Harness Damage
Dash Gauges & Related Switch Service
Turn Signals, Flasher, & Headlight Circuits
Window Wipers & Washers
Radio & Related Components. We can remove & take to authorized center for repair & reinstall.
Keyless Entry System & Key Fob Re-Programming
CHARGING & STARTING SYSTEMS
Battery Service
Alternator Replacement
Drive Belt Replacement
Starter Assemblies, Switches, & Cables
Our Partners
In efforts to provide our customers with the top service and parts that will last, we at R&R Inc. partner with the leading suppliers on the automotive market. We stand behind the quality of services we provide, as well as we are sure in the quality of the parts we install within the services. Here are some of the companies we partner with.
1. EBC Brakes USA.
EBC is an absolute leader on the US brake parts market, that's why the brake parts we install on our customers' vehicles are delivered to us directly from EBC. This way we can guarantee, that the parts we deal with are genuine and can warranty both services and parts.
Enjoy the friendly, down to earth customer service and relax in our temperature controlled waiting area.
2. CARiD Tires.
To quickly get any tires for our customers, we work with CARiD, one of the leading wheel and tire suppliers in the US. This way, we can get not only the regular tires installed on out customers' vehicle, but also deal with custom projects, including off-road tires setup and installation, classic tire projects, track and competition tire setups, etc.
3. Denso TPMS Department.
We know, how important it is to have quality TPMS sensors in the tires, and how irritating and dangerous TPMS errors are. That's why we do not compromise on the quality of the tire pressure sensors we install and work directly with the US subdivision of Denso TPMS. This way, we are sure, that the sensors we install will last and work properly, relying on years of Denso experience in automotive sphere.